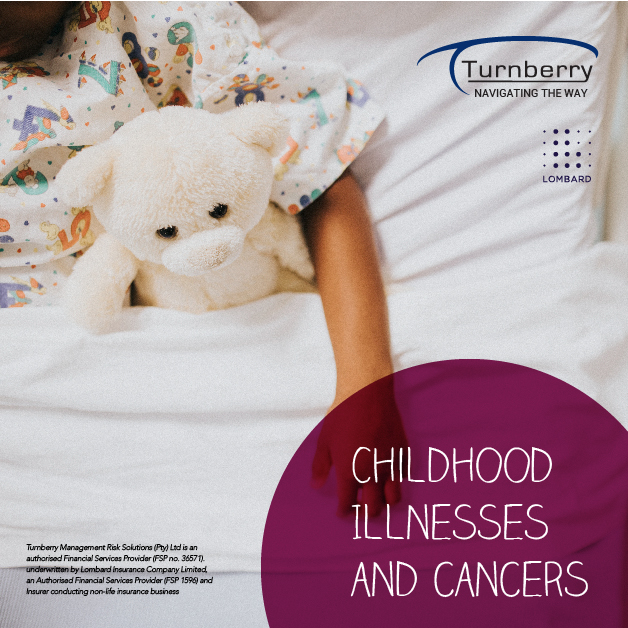 Moneymarketing – 2nd September 2021
Childhood illnesses are part and parcel of parenting, from colds and other viruses to ear infections and respiratory diseases like croup. For the most part, these illnesses are mild, and while they may be distressing, do not cause lasting harm – either physically or financially. But the reality is that not all childhood illnesses are as innocuous. A diagnosis like cancer, a congenital condition or even an unfortunate accident, could result in ongoing hospital treatment, and as a result, significant medical bills. When it comes to taking care of children, the last thing any parent needs is to worry about whether or not they can afford the right medical care. Gap cover has become a critical insurance policy to ease some of the burden in the event that the unthinkable happens.
The big C
Childhood cancers like leukaemia, lymphoma, neuroblastoma and soft tissue sarcoma are generally caused by environmental and genetic factors. They are not the result of lifestyle choices, and as such there is nothing that can be done to prevent them. According to the Cancer Association of South Africa (CANSA 2021), between 800 and 1000 children in the country are newly diagnosed with cancer every year. A disturbing two-thirds of these children never reach a specialist treatment centre. Cancer requires ongoing treatment over a period of months or even years, which can become a heavy financial burden.
Aside from cancer, which may develop at any time during childhood, many children are born with certain medical issues. These are called congenital defects, and again may require extensive medical treatment. Some examples are club foot, which generally requires surgical intervention, and cleft palate, which may require multiple surgeries as well as physical and speech therapy. Some children may be born with heart defects, which again require surgery to correct. There are also a range of genetic conditions that may affect children, the most well-known of which is Trisomy 21, also known as Downs Syndrome.
The financial burden
When a dread diagnosis is made, no parent needs the added stress of wondering how they are going to fund the expensive treatments their child requires. In addition to the medical expenses, severe childhood illnesses that result in ongoing treatment and lengthy hospital stays mean that parents need to take time off work. Hospitals require that an adult be present with a child during their hospital stay, but how does a parent continue to earn an income during this time?
Accidents happen
Quite apart from illness and congenital problems, accidents also happen, from broken bones and cuts that need stitching, to unfortunate events that result in more severe damage. The severity of an accident obviously affects the length of a hospital stay and the treatment required, but the upshot is similar to a critical illness. Parents are left with a financial burden of medical expenses, as well as potentially the need to take time off work to be with their child in hospital and to help them recover.
No room for gaps
Parents want to be able to give their children the best treatment they can, and the thought of not being able to afford this can be devastating. Gap cover offers an ideal solution to help ease this burden.
Choosing the right gap cover policy can help parents to ensure that they are covered for a range of medical expense shortfalls, from surgical to anaesthetists, specialists and more. Gap cover also helps to cover the penalties associated with making use of a non-designated service provider (DSP) hospital or doctor, and the co-payments that are often linked to specific types of diagnostics and treatments. Gap cover policies may also offer a counselling benefit to make sure that parents are able to look after their mental wellbeing and that of their children. The policies also offer a casualty benefit to cover those unforeseen visits to the emergency room after hours or on weekends and holidays.
While no insurance can possibly lessen the blow of receiving a dread diagnosis for a child, it plays an important role in covering additional costs and protecting the financial wellbeing of a family. It is one way to reduce the stress and ease the pressure, so that parents can focus on what matters – getting their child the help they need.
Consult your financial advisor
It is always advisable to consult your financial advisor to ensure that you have the right "fit" of a Gap policy to align with your Medical Aid and to provide the level of cover you and your family require.
https://moneymarketing.co.za/choosing-the-right-gap-cover-for-childhood-illnesses/
What is Gap Cover?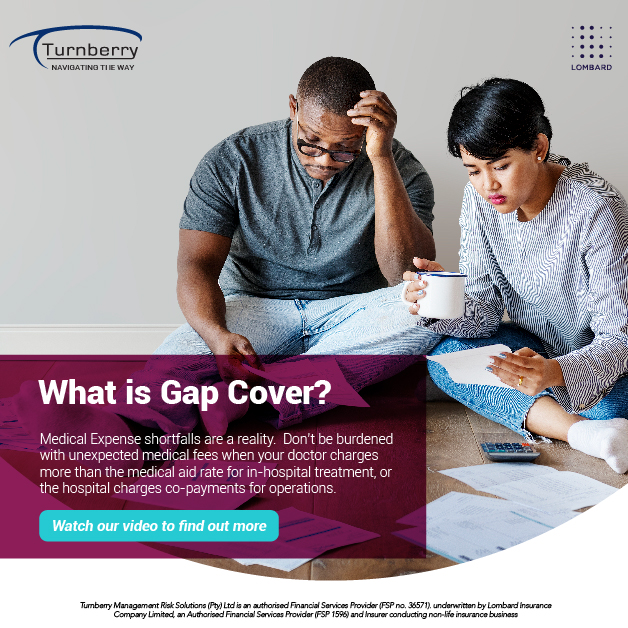 https://getcovered.turnberry.co.za/app/1
Client Testimonials
Young parents Monique and Hein were distraught when their newborn daughter was diagnosed with hyperostosis of the skull, a rare condition which causes thickening of the skull.   This required extremely complex surgery, under the care of a neurosurgeon and an ENI surgeon, which attracted a shortfall of R110 448.13.   As Turnberry members, this amount was covered by Turnberry, and Monique and Hein were able to focus on their new baby, with the peace of mind that they wouldn't have to worry about any medical expense shortfalls.
I was so happy that I decided to take out gap cover with Turnberry, as my son required much needed surgery. He was able to receive top quality medical attention, the cost of which was covered by medical aid and supplemented by Turnberry Gap Cover. The team was very efficient and the claim was processed promptly. I was very happy with the process.
Turnberry was efficient, covered the shortfall of my daughter's operation 100%. The payment was prompt and hassle-free, and I recommend the product to everybody, it's a no-brainer. Thank you, Turnberry.
When a Loved one needs care, from an unforeseen dread Disease, and costs add external pressure to an already emotional experience, its nice to no that there is one less thing to worry about. Thanks Turnberry for that piece of mind.  I would absolutely recommend it, as no one can predict the future.
Asha and Mariette, thank you for the efficient and great service provided by Turnberry in settling all claims pertaining to my child's admission
Turnberry has been very helpful indeed. My grandson who is on my medical aid and also covered with Gap Cover by Turnberry has received excellent support throughout the process for his addition to our cover, plus the build up to the operation and procedures that he has just gone through. Constant feedback from Turnberry throughout the claim process was handled very well.
Gap Cover is a necessary part of your medical cover – a Medical Aid is not sufficient to cover all aspects of medical care throughout one's life and its imperative that Gap Cover forms part of the consideration. I have already recommended Turnberry to a few people.
Little 9-year-old Sarah* snuck onto the roof of her granny's house, but slipped and fell onto a flower pot injuring herself.
She was rushed to the hospital's paediatric ward for a series of scans – which unfortunately showed extensive damage to one of her kidneys. After consultation between the family and their healthcare providers, Sarah was transferred to the care of a highly experienced Paediatric Surgeon, where she underwent surgery to remove the kidney.
Sarah's father, William, said that throughout the ordeal, he was at least grateful to have Turnberry Premier policy in place – as the medical expense shortfalls for Sarah's surgery amounted to R32 683.96. With Turnberry by their side, the family could focus fully on Sarah's recovery and not on the medical expense shortfalls.
*names have been changed upon the client's request.