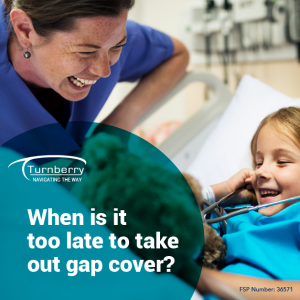 Just Money, 16th July 2020
You've been responsible and made sure you're up to date with your medical aid or hospital plan, but when the time comes to claim for surgery, you find there are still co-payments.
To avoid these kinds of costs, you could take out gap cover. But what if you already know you need to go in for surgery? When is it too late to take out gap cover?
Which waiting periods apply?
According to Tony Singleton, CEO at Turnberry Management Risk Solutions, it's typical to face a three-month waiting period in the gap cover market. In addition, there are usually condition-specific or pre-existing conditions, which could last for up to 12 months.
He points out that childbirth is an example of this, which usually has a 10- or 12-month waiting period before a claim would be entertained.
"These safeguards from a risk point of view would prevent a claim in the first year being made against the insurer and, although cover can be taken out, a claim would not be paid in the case of anti-selection or non-disclosure within the first 12 months," says Singleton.
"It's interesting to note that, following the recent demarcation ruling, gap cover insurers are only able to exclude conditions for a maximum of 12 months. Thereafter, the policyholder would be covered in terms of the policy terms and conditions," he adds.
Who can access your medical records?
Singleton says that in order to protect the overall risk pool, an insurer can investigate claims.
"The permission to access your records is usually included in the Gap Cover application form, claim form, and the Terms and Conditions of the Policy," says Singleton.