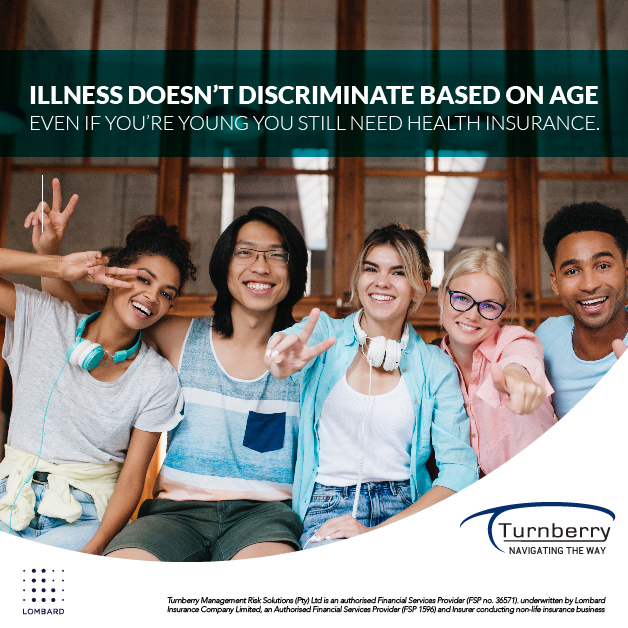 Business Day – Medical Cover 2022
A growing need for Gap cover
Gap cover is becoming an increasingly popular way for members of medical schemes to protect them from unexpected medical expense shortfalls for in-hospital treatment, says Tony Singleton, CEO of Turnberry, a registered financial services provider that specialises in accident, health and travel insurance and funeral cover.
"Medical aids are under constant pressure to balance benefits with affordable contributions with the result that they put risk management strategies in place to manage costs," he explains. "An example of this are a number of procedures which were previously done in a hospital and which are now being performed in day clinics. If you select to have these procedures done in a hospital, you are liable for a penalty."
Given that illnesses and accidents don't discriminate based on age, he says gap cover is a tool that should be added to every medical scheme members' financial planning portfolio. "A heart attack, accident or cancer diagnosis, for example, are not planned events and they can happen to anyone, at any time. An event of this nature can leave a family significantly out of pocket if they don't have gap cover in place. In the current tough environment, an unexpected medical expense shortfall can cripple a family financially."
In terms of choosing which gap cover option is the right plan for you, Singleton says the medical aid option you have selected plays a vital role in which gap cover product would be best suited to your needs. "Medical aid and gap cover should be aligned," he says, adding that to ensure that your gap cover option meets your needs it's a good idea to speak to your financial advisor who can evaluate both your medical aid and financial needs and recommend the best product.
What you should be looking out for in your gap cover, he reveals, is strong service delivery from your gap cover provider. "While product benefits and pricing is one issue, it's important that your gap cover provider makes it easy to claim and that they assist you with queries, particularly around claims, as this can be a stressful time."
Gap cover policies have a continuation capability without additional underwriting for your existing benefits, so it's a portable type of cover, he says. As such, it's more important that your selected Gap option aligns with your medical aid option, than where the Gap cover comes from.
Medical inflation is increasing above normal CPI inflation rate which means that the impact of a medical expense shortfall is going to be felt on an increasing basis on our overall financial planning going forward, points out Singleton. "This could potentially lead to medical aid members dipping into their key savings to fund medical expenses unless they have Gap cover to make up for the shortfall between what the health care provider charges and what the medical scheme funds."
https://getcovered.turnberry.co.za/app/1
https://pdf.novusgroup.co.za/assets/pdf/NOVUS_Business_Day_2021-10-21_NTQ2MjUwODIa_1722tBxDJ.pdf
What is Gap Cover?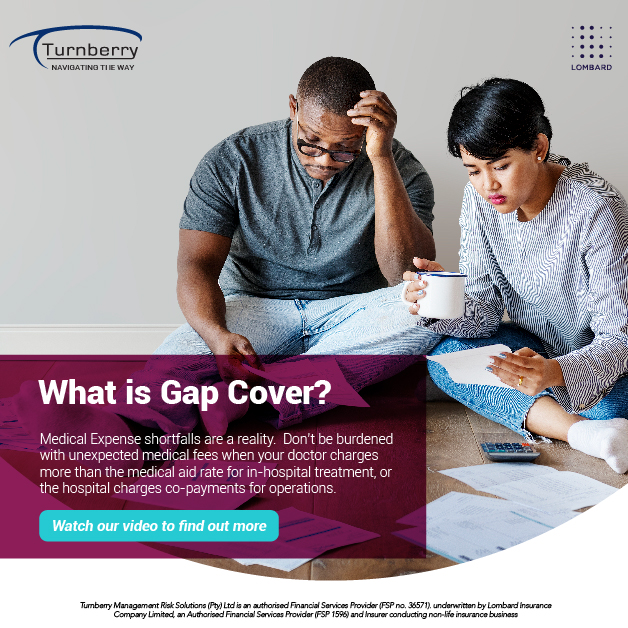 https://getcovered.turnberry.co.za/app/1
Client Testimonials
Cancer Lump Sum Payment has helped us hugely with all the incidental costs.  Gap Cover is a 'must have'.           Christopher Cradock – June 2021
Doctors charged above medical aid rates which required upfront co-payments. These co-payments were submitted to Turnberry for processing. My claim form was completed and submitted to my Broker on 29 June 2021.  Payment of my 1st diagnosis of cancer was paid on 16 July 2021.  On 9 July 2021, I received an email to advise that my claim was submitted to an assessor to conclude the assessment.  Your timeous and prompt responses and feedback has assured me that Turnberry provides the best value for money which has benefitted me during my claim experience.  I believe Turnberry provide a prompt, fast and efficient customer service and satisfaction. I would recommend Gap Cover which helps with the additional medical expenses.  It covers the shortfall where Doctors and Hospitals charge above medical aid rate.  The up-front co-payments for certain procedures and admission can be claimed from Gap Cover if you have the right benefit product in place.  Excellent service. Highly recommended.      Vijay Pillay – August 2021
Turnberry's Gap Cover Insurance assisted our family tremendously.  My husband was diagnosed with cancer and the once off payment helped a lot with extra medical expenses.     Anon – January 2021
I have been with Turnberry Gap Cover for about 6 years and it has been one of the best investments I could have made. They immediately acknowledge the receipt of a claim, they pay out well within 14 days and provide a detailed and easy-to-read statement. On occasion they have assisted me with advice regarding monies which should have been paid out by my medical aid and had not been, due to an error on the part of the MA. This allowed me to approach the MA and resubmit a claim, thereby saving me money.  I have ovarian cancer, stage 4, and knowing that, between my medical aid and gap cover, I need not worry about medical bills, has removed much of the anxiety.   I would not hesitate to advise anyone to consider Turnberry Gap Cover. Private medical care is so very expensive and out of the reach of most people who do not have medical aid. Even with a good medical aid, it is very easy to be left with enormous bills to settle. My gap cover has proved itself over and over.    Bobbi Marshall  6th August 2020
The claiming process was easy and painless. The claim was finalised quickly. This was a huge relief as, having been diagnosed with cancer, it was one less thing to worry about.  Make sure that you have GAP cover. It could be the difference between being able to pay all your medical accounts and having to go into debt to cover the unexpected costs.   Anon – 4th August 2020