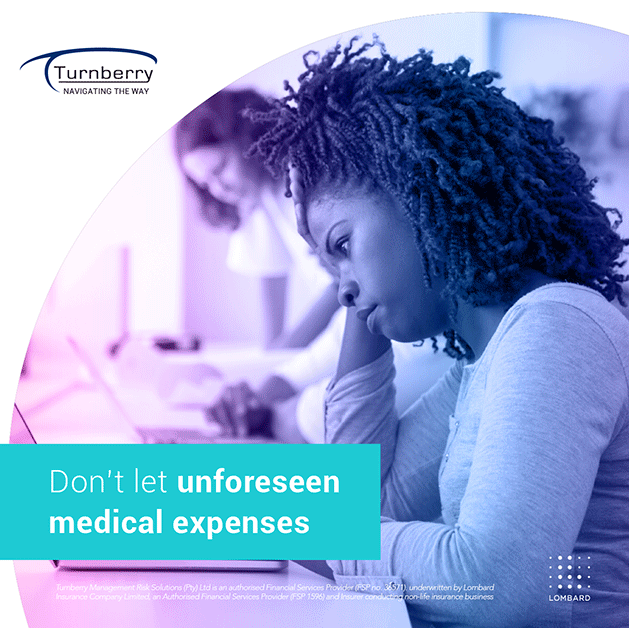 Engineering News – 28th February 2022
The last two years have been fraught with uncertainty and for many, significant financial challenges. The pandemic has resulted in many job losses, and even for people who kept their jobs, salary increases have been few and far between. This, coupled with rising costs of living, means that we are all feeling the strain, and many people are looking to cut out unnecessary expenses. Medical aid, along with gap cover, are tempting targets, but the reality is that this decision could be one that people live to regret. Unforeseen medical expenses can be financially crippling and can have long-term repercussions far beyond the current times of hardship.
Rising costs, sinking employment
The Quarterly Labour Force Survey (QLFS) from Stats SA shows that the official unemployment rate was 34,9% in the third quarter of 2021 – the number of employed persons decreased by 660 000 in the third quarter of 2021 to 14,3 million. This is the latest in an ongoing trend of increasing unemployment. The council for medical schemes has suggested increases of 4.2% in line with the Consumer Price Index (CPI), but the turbulent and unpredictable environment is evident in the way the schemes have taken this advice on board.
In an attempt to help members, medical schemes like Discovery deferred their increases for 2021 to the middle of the year, however, their 2022 increase is now happening on 1 May with an average 7.9% increase. Momentum will have a 6% increase from 1 September 2022, FedHealth is increasing by an average of 5.5% from 1 April, and Bonitas is increasing by an average of 4.8% on 1 January.
Trimming the fat
Given the difficulties in comparing various medical schemes and the increasing financial pressure many people find themselves under, there is little wonder that many members are considering cancelling their medical aid. Many people see this as an expense that they do not need – they may be young and healthy, or simply feel that the risk is outweighed by the reduced monthly expenses.
The trouble is that we are still in the middle of a pandemic, which means that there is a real risk of being hospitalised with Covid-19, even in people who were previously young and healthy. The risk of dread diseases like cancer remains the same as ever, and accidents still happen, all of which could result in significant medical expenses. Even if state hospital facilities are used, there is still a cost involved – this is related to your income, and could prove to be quite costly without some form of medical insurance.
Aside from this, having a lengthy break in medical aid cover can trigger exclusions, waiting periods and ongoing late joiner penalties. This means that should you wish to re-join in the future, it could end up costing a lot more than if there had been no break in cover.
Planning for your financial future
While medical aids have tried their best to keep increases manageable, the reality is that medical treatments are becoming increasingly expensive. This means that shortfalls will become more common, along with co-payments and other member contributions. While cancelling medical aid may not be the best financial decision, it is also prudent to investigate gap cover as an affordable way of augmenting this cover, even if members need to step down their medical aid plan.
If the unthinkable should happen and medical expense shortfalls occur, people could find themselves in a far worse financial situation than if they had kept up medical aid and augmented this with gap cover. The role of the financial advisor is often overlooked – everyone with medical aid has access to their broker, it is included in the premium. When it comes to riding out the current economic storm, your financial advisor can help to find smarter ways of planning to protect your financial and physical wellbeing, in 2022 and beyond.
https://www.engineeringnews.co.za/article/dont-let-unforeseen-medical-expenses-ruin-your-year-before-its-begun-or-your-financial-future-2022-02-28/rep_id:4136
https://getcovered.turnberry.co.za/app/1
What is Gap Cover?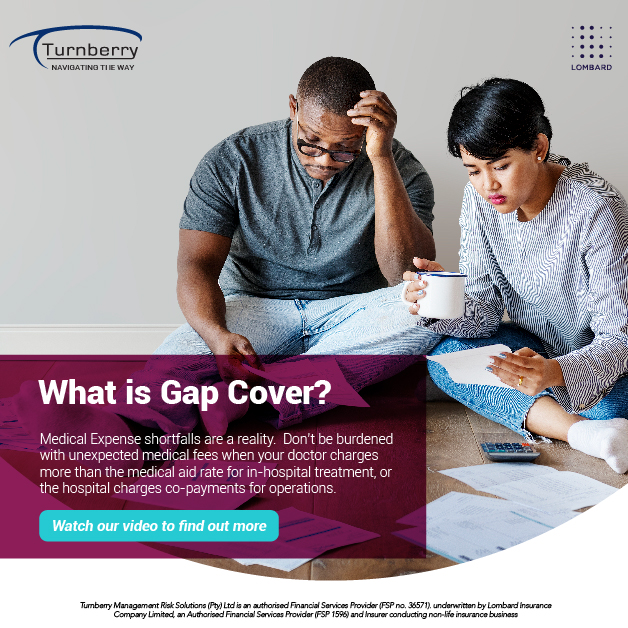 https://getcovered.turnberry.co.za/app/1
Client Testimonials
Turnberry assisted with claims for various incidents during the last few years – from an elective orthopaedic surgery for my young daughter to emergency surgeries for my wife.   When my wife was diagnosed with cancer last year, the once-off payment assisted in a number of the out-of-hospital expenses. In addition, the knowledge that the expenses threshold is so much higher than the standard medical rates provided peace of mind.  I have recommended Turnberry Gap Cover to our family, and reiterate that it is an essential or mandatory product. No healthy person believes critical or emergency procedures will happen. But the truth is that it can happen to anyone. The cost vs benefit is not a logical debate, without gap coverage you may end up selling assets to cover the bills.   Turnberry's services were professional, quick and efficient – 'Peace of mind'.        Mynhardt Oosthuizen – January 2022